On average, 7 out of 10 or 70% of carts are abandoned. Chances are, your analytics paint a similar picture – maybe even worse. But you're not alone. Cart abandonment is something that all eCommerce store owners and online retailers experience. 
The good news is that there has been quite a bit of  research that has been done to try and figure out why so many users abandon their cart.
The conclusion of all this research? There are 4 main cart abandonment issues. 
Stop leaving money on the table and improve your store revenue by fixing these cart abandonment issues with our guide for 2020. 
1. Unexpected Costs
No one likes surprises. 
Some stores don't want to scare off customers by putting up fees like shipping or packaging costs right upfront, but that actually does more damage. Additional charges during checkout that weren't mentioned on the product page come off as scammy.
So much so that more than half (56%) of shoppers will outright abandon the cart if the shipping fees are extra, hidden or too high.
How to fix this: 
Shipping costs aren't unusual – even the biggest eCommerce store in the world has delivery charges. More importantly, when additional fees aren't shown on the product page, consumers go over budget and ultimately abandon their cart. So be upfront. 
Another way to fix this is to offer free delivery over a certain cart value. This has three benefits:
This works well in removing confusion if different products have different shipping charges and you don't want to mention each shipping cost separately. 

Shoppers are more likely to

increase the average order value

by buying more in order to avail the benefit of free delivery. 

Free shipping is an

incredible incentiv

e for online shoppers, especially with Amazon Prime offering free 2-day shipping. Customers are used to not paying for shipping. 
Related: 5 Effective Strategist to Increase Average Order Value in 2020
2. Mandatory Registration
There are a lot of benefits of account registration, for both store owners and shoppers, but is it worth the high-risk (31%) of cart abandonment? Probably not. 
The main benefit to the shopper are notifications and not having to enter their billing and shipping information every time they checkout. But that's only if the shopper is going to be purchasing from you on a more frequent basis.
A mandatory registration means the potential customer might never reach the stage where they plan on shopping repeatedly. Thankfully, fixing this conversion killer is actually quite easy. 
How to fix this: In 2020, customers are tired of having to sign up and gave their personal information to every company – be different by offering checkout as a guest.
If you want to, you can always include a call-to-action (CTA) to sign up after the purchase has been made or during checkout. Consumers aren't as likely to sign up this way but that's better than a lost sale.
If mandatory registration is crucial to your business model, ensure that the process is as seamless as possible. 
3. Unoptimized Websites 
In 2020, we aren't just spoiled for choice, we're demanding of speed as well. In fact, a 3-second increase in loading times means 29% of your visitors will leave before the site loads completely – that's nearly one-third of your visitors!
Website optimization doesn't just affect load times either, it can severely affect the entire shopping experience. With hundreds and thousands of individual elements on websites, it's easy for bugs and glitches to go unnoticed and  completely stop the consumer from making a purchase.
Though optimization might seem like a daunting task, it's necessary. Especially for mobile devices.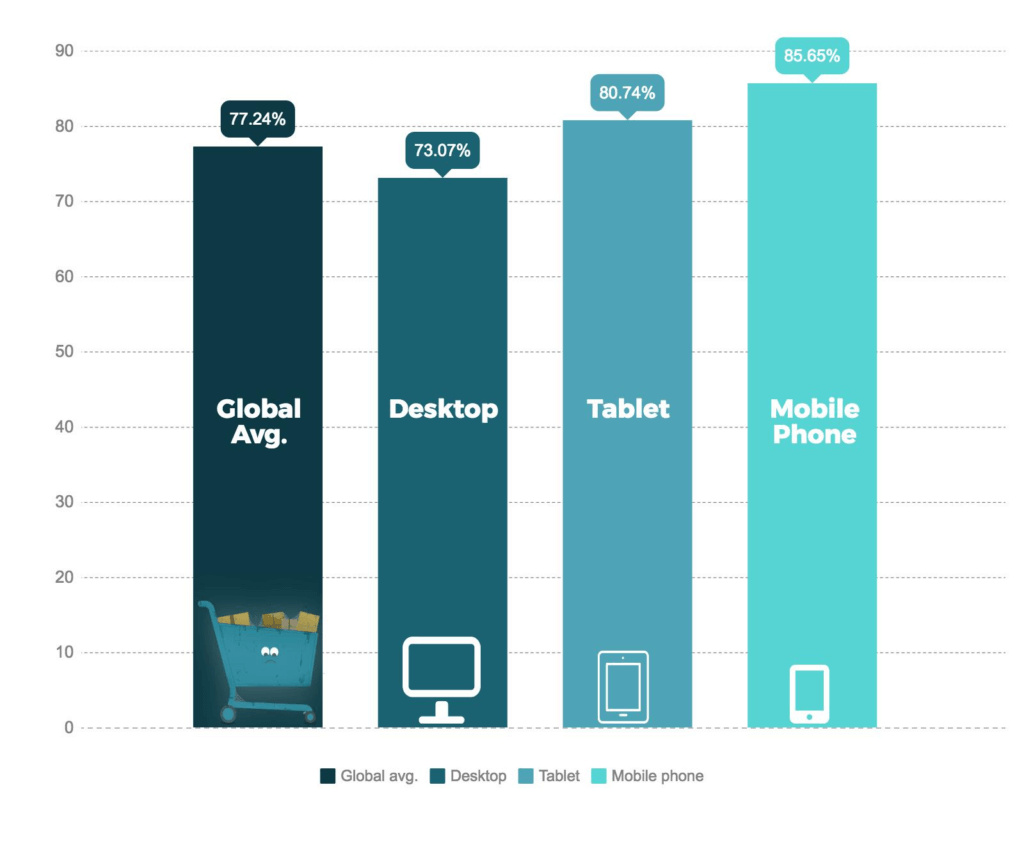 Cart Abandonment Statistics by Device
In 2019, nearly half (49%) of all eCommerce traffic comes from mobile devices which means your website needs to be optimized for mobile as well. In fact, it's even more important that your website is optimized for mobile devices as the cart abandonment rate for shoppers on mobile phones is greater than any other device. 
According to RetailDive, the higher abandonment rate can be explained by the fact that most eCommerce stores only optimize their site for desktop users and not for mobile phone users.
On top of this, the "inconveniences" like forced registration and long checkout processes are only made worse on smartphones. 
So the key takeaway here is that eCommerce stores must optimize load times, navigation, and overall UX of their site for mobile devices. 
4. Long / Complicated Checkout Process
There has been a factor common in most of the cart abandonment issues discussed so far – the speed. But unlike the last issue, slow speeds don't have to be the result of an unoptimized website – it can be a product of overthinking as well.
In a recent article, we mentioned up-selling and how it can be used as an effective tactic to increase the average order value, but if done wrong, an up-sell page can be intrusive and if it is annoying enough, it may prompt the shopper to abandon their cart. 
In an ideal scenario, you want the checkout process to be as simple as possible, for example:
Add to cart

Checkout

Success
But many online retailers don't want the process to be this simple for a variety of reasons. They may want to up-sell a specific product, get the user registered, and more – the checkout page is a good opportunity to do this, after all.
So don't just focus on simplifying the checkout process, focus on making it as seamless as possible. For instance, have clear buttons to skip the recommendations page and limit the number of popups or distractions in the checkout flow.
No matter what idea or hypothesis  you come up with for improving your checkout flow, you should test it against what you currently have. The way to do this is to setup an A/B test with your new checkout flow and current checkout flow and split your traffic to them. This will allow you to quickly learn which flow performs better. Conversion optimization campaigns can drastically improve your cart abandonment and conversion rate month after month,
Wrapping up…
In 2017 alone, more than $260 billion could've been recovered through solving these checkout problems and optimizing the process. That's serious money and also an opportunity to improve your bottom line. The checkout process can be hard to perfect, but by focusing on these cart abandonment issues, you can retain more customers and generate more revenue.